WriteNow! Technology means:
> 10000 of supported devices (device codes)
> 100 different programming algorithms (drivers)
> 30 different programming protocols (FPGAs)
> 50 of supported manufacturers (silicon)
Benefits of WriteNow! Products in Production
Parallelism, High Speed Programming
Typically, PCBs are grouped into PCB panels.
To program all the devices in a panel, a traditional approach consists on using either multiple programming tools (with added costs and complexity) or a demultiplexing solution (with slower overall programming time).
The WriteNow! technology allows the programming of up to 8 devices at once, drastically reducing programming times, costs, and system complexity.
In addition, the WriteNow! technology performances allow to reach the theoretical programming speed for any given device, thus shortening as much as possible the programming phase of the production process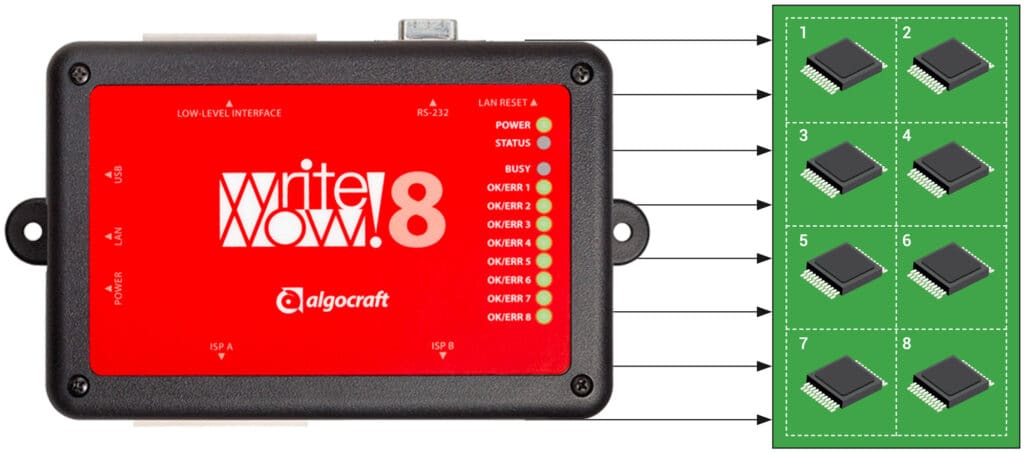 The WriteNow! technology is based on a universal full configurable platform (based on FPGA). New and custom programming protocols can be supported through a software update of the programmer.
The I/O digital front end was designed to even support those devices where a high voltage (Vpp) is required, typically at 12V.
Adopting into production a unique Universal programming tool supporting various devices and manufactur- ers means:
Less spare parts;
Only one company to interface with;
Engineering time and costs saved;
More time to dedicate to the quality of the programming/testingflow.